In Remembrance of John Kenton Shea

John Kenton Shea
Date of Death: 07-20-2022
Burial: Allen Cemetery
Funeral Service : 07-25-2022
---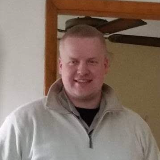 John Kenton Shea, 34, of Stewartsville, MO passed way July 20, 2022.

He was born on September 29, 1987, to John M. and Kathy (Schwarz) Shea. He was perfect in our eyes. Kenton graduated from Bishop LeBlond High School in 2006 and attended Mineral Area College (MAC) where he graduated with an associate's degree in Fire Science. 
On May 2, 2009, he married Jessica. He loved life, he loved his wife Jessica. Together they had two beautiful children Donna and Levi. They are loved. Donna will always be daddy's girl. He died doing what he loved doing, driving his vroom as Levi called it. Kenton excelled in Boy Scouts and earned his Eagle Scout. In the tribe of Mic O Say he got to the high rank of Keeper. He worked hard during his five years on staff at Camp Geiger helping the younger scouts understand the outdoor programs and the scouting way. 
While at MAC, he worked as a firefighter for the Park Hills Fire Department in southeast Missouri. After returning to St. Joseph, he worked at Menards and was a volunteer for South Central Buchanan County Fire Department. Kenton later received his EMT license which helped him at his jobs with the DOC, Buchanan County Sheriff's Department and Frontier Casino. He was currently working for Lifeline Foods. Kenton was very passionate about helping others and was a light in so many people's lives. He will be missed by all he came in contact with, especially his family.
Kenton was preceded in death by his grandparents John Shea, Sr. and Donna Shea; his father-in-law Dennis Seals; and his uncle Jim Schwarz.
He is survived by his wife Jessica Shea; his children Donna and Levi; his parents John and Kathy Shea; his mother-in-law Susan Seals; sister-in-law Jacqueline Seals and husband Rob Carbin; his niece Effie; grandparents Kenton and Ann Schwarz; aunts and uncles Jan and Ray Schwarz, Pat and Mary Shea and Andrew Shea; numerous cousins, other relatives and many friends.
Celebration of Life Service: 10:00 a.m. Monday, July 25th at the Gower Christian Church AFC Building.  For livestreaming of service click here https://www.youtube.com/watch?v=w_dP8uHOdOc
Burial: Allen Cemetery, Gower, MO
Donations may be made to the Kenton Shea Memorial Fund. Checks may be made payable to Jessica Shea.

Tweet
Share
Link
Plus
Pin
---