In Remembrance of Joetta June Boydston

Joetta June Boydston
Date of Death: 11-11-2018
Funeral Service : 11-15-2018
---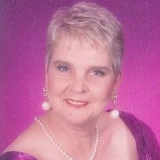 Joetta June Boydston, 67, of St. Joseph, MO formerly of Dearborn, MO passed away, Sunday, November 11, 2018.
She was born on June 30, 1951 to John O. Jones, Jr. and LaVena Mable (Coston) Jones in Maryville, Missouri. Joetta grew up in the Kansas City, Missouri area with her mother and step-father James Loehr along with her brothers. She attended East High School in Kansas City where she graduated. 
On April 14, 1978 she was united in marriage to Marion Howard Boydston. After their marriage they lived in Dearborn where they raised their family. In 2004 they moved to St. Joseph. Marion passed away August 20, 2018. 
Joetta was a member of the Eastern Star. 
She was also preceded in death by her mother LaVena M. Loehr; her father John O. Jones, Jr.; her son Wyatt Boydston; and her brother Randy Loehr.
Joetta is survived by her children, Shane Wardlow, Angela Moore, Candy Paluka and Christina Loehr; grandchildren, Makenzie, Makayla, Tyler, Spencer, Andrew, Nicolas, Taylor, Korbyn, Tristan, and Addison; one great-grandson; father James Loehr; brother Rodney Loehr and wife Choe Ann; brother-in-law Earl Boydston and wife Debbie; other relatives and many friends.
Funeral Service: 7:00 p.m. Thursday, November 15th at Mt. Zion Baptist Church, Edgerton, MO with visitation from 5:00-7:00 p.m. prior to the service. 
Graveside Service: 1:00 p.m. Friday, November 16th at Hillcrest Cemetery, Skidmore, MO.
Arrangements, Hixson-Klein Funeral Home, Edgerton, MO.
Donations may be made for Shriner's Hospital for Children.
Tweet
Share
Link
Plus
Pin
---