In Remembrance of Joanne Ray

Joanne Ray
Date of Death: 10-09-2018
Burial: Dearborn Cemetery
Funeral Service : 10-13-2018
---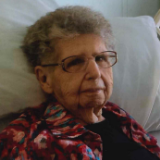 Joanne Ray, 92, of Dearborn, MO passed away, October 9, 2018. 
She was born on June 20, 1926 to Earl and Myrtle Anna (Sharp) Chesnut in Platte City, MO. She grew up in Camden Point. She graduated from Camden Point High School in 1943. After graduation she worked for the bank in Camden Point until 1948.
On February 17, 1948 she was united in marriage to William Bradley Ray. After their marriage they lived near Dearborn where they farmed and made their home. Her husband, Bill, passed away in 1977. 
 She was a member of the Dearborn United Methodist Church and was head of the church dinners and funeral dinners for 50 years. Joanne was one of the community leaders of the Fun and Friendship Club of the UMC for 19 years. Joanne took an active part in her children's projects. She was a leader of Farmers and Homemakers and No. 5 4-H Club for several years. Joanne was an avid gardener and loved working with her flowers. She also had the responsibility of running the family farm after the sudden death of her husband. She always put the love of her family first. Her home was always open to young and old, family or friend. She was known for her delicious cooking and never being quite able to tell the correct measurements of the ingredients that she used in her recipe. 
Joanne was also preceded in death by her parents, and brother, Charles W. "Bill" Chesnut and sister-in-law, Anna Mary Chesnut.
She is survived by her daughter, Mary Ann LaFollette and husband Richard, Easton, MO; son William Bradley Ray, Jr and his wife Patricia, Minneapolis, MN; grandchildren, Michele Ann Wilinski and husband John, Brent and Brian LaFollette; great-grandchildren, Emeline and Spencer; niece, Suzanne Thomas; other relatives and many friends.
Funeral Service: 11:30 a.m. Saturday, October 13th at Dearborn United Methodist Church in Dearborn, MO with visitation from 10:00-11:30 a.m. prior to the service.
Burial: Dearborn Cemetery

Arrangements, Hixson-Klein Funeral Home, Gower.
Donations may be made to the Dearborn United Methodist Church.
Tweet
Share
Link
Plus
Pin
---