In Remembrance of Jim Justus

Jim Justus
Date of Death: 08-02-2022
Funeral Service : 08-02-2022
---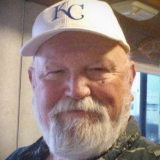 James Norman "Jim" Justus, 71, of Smithville, MO, passed away on August 2, 2022. He was born January 29, 1951, in Smithville, MO.
Jim graduated from Smithville High School in 1969 and was a career truck driver. He was also a trained Emergency Management Technician. He had a passion for music and was the lead singer for Badlands for many years. His hobbies included building and flying model airplanes, touring the country by motorcycle and RV, watching old westerns and connecting with people across the country—and the world—on his CB and Ham radios (final sign offs have been made for Sharpshooter and N0NZW). Jim also loved gathering with friends and family and will be remembered as a gifted storyteller.
In addition to his parents, Norman Justus and Elnora (Wells) Justus, Jim was preceded in death by his sister Elnora "Nora" Monroe, brother Ralph "Budge" Brenneman and nephew Michael "Mike" Johnson.
Jim is survived by his niece Meredith (Johnson) Ivey, niece-in-law JoBeth Johnson (the late Mike Johnson), nephews Ernest "Ernie" Shikles (Gena) and Aaron Brenneman (Ines), nine great nephews and nieces: Hayden, Nicholas, Ava and Emma Johnson, Christina (Shikles) McCully, Beatrix, Phoenix, Eliza and Circe Brenneman, sister-in-law Zandi Brenneman, as well as numerous family members and friends who loved him dearly. 
In lieu of a memorial service, Jim requested that his ashes be spread in the mountains where he and his friends toured over the years admiring the beauty of nature and making priceless memories.
You may share online condolences at https://www.hkfuneralhome.com.
Tweet
Share
Link
Plus
Pin
---