In Remembrance of Jerry D. Grinlinton

Jerry D. Grinlinton
Date of Death: 06-14-2019
Burial: Leavenworth National Cemetery
Funeral Service : 06-20-2019
---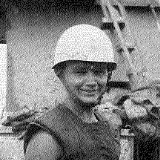 Jerry Dean Grinlinton, 72, of Kansas City, MO passed away June 14, 2019 surrounded by his family.
He was born on May 20, 1947 to Arthur C. and Margaret (Bluma) Grinlinton in St. Joseph, MO. Jerry was one of 12 children. His family ran a skating rink and Jerry was taught to skate at an early age. Jerry was a skating floor referee and won the national figure skating title in 1965 putting his name in the world almanac. He graduated from Lafayette High School in St. Joseph. Jerry was in the ROTC, earned his black belt in martial arts and attended the Kansas City Missouri Art Institute. Jerry proudly served his country in the US Navy and did an 18 month tour in Vietnam on the Mekong River Delta. 
Jerry retired from the Veterans Administration in Leavenworth, KS. He enjoyed car shows, going to the YMCA and most of all spoiling his kids and grandkids.
He was preceded in death by his parents Arthur and Margaret Grinlinton; brothers Clarence, Arthur C., Larry, and Ronald Grinlinton and sisters Mary Margaret Grinlinton and Betty Bauman.
Jerry is survived by his children Philip Grinlinton, Weston, MO, Lauren (Paul) Shouse, Weston, MO, Kirk Grinlinton, Kansas City, MO; their mother Susan Grinlinton; grandchildren Emma, Grant, Luke Shouse; brothers and sisters Barbara (Jerry) Ashlock, Billie (Steve Reinke) Grinlinton, Marti (Steve) Schultz, Terry Grinlinton and Debbie Parks; numerous nieces and nephews, other relatives and many friends. 
 Graveside Service: 2:30 p.m. Thursday, June 20th at Leavenworth National Cemetery, Leavenworth, KS
Celebration of Life: 4:00-6:00 p.m. Thursday June 20th at First Baptist Church, 160 Walnut Street Weston, MO
Arrangements by Hixson-Klein Funeral Home, Gower 

Tweet
Share
Link
Plus
Pin
---