In Remembrance of Janet Fales

Janet Fales
Date of Death: 10-13-2023
Funeral Service : 10-20-2023
---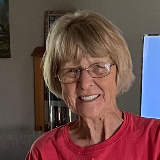 Janet E. (Miller) Fales, 78, of Turney, MO formerly of Smithville, MO passed away October 13,2023.
She was born on July 15, 1945, to Henry Lee and Marian L. (Rupe) Miller in Edgerton, MO.
Janet was preceded in death by her parents; her husband Harold Fales; her brother Don Lee Miller; her sister Mary Jo Mauzey; her granddaughters Anna Marie Wren and Elizabeth Elaine Neighbors; and her great-granddaughter Stormey Michelle Martin.
She is survived by her sons Donald Wren and wife Theresa; Mark Rankin; her daughter Vicki Neighbors; grandchildren Thomas Wren, Matthew Wren and wife Madalyn, Elyssa Wren Unfred and husband Steven, Crystal Wren, Misty Wright and husband Caleb, Marcus Rankin, Austin Rankin, Dakota Rankin and Corbin Rankin; great-grandchildren Brandon Martin, Harrison Wren, Ellie Unfred, Oliver Wren, Ellie Unfred, Adeline Unfred, and Hudson Rankin; her brother Terry Miller and wife Debbie; many nieces and nephews, other relatives and many friends.
Janet enjoyed going to the First Baptist Church in Lathrop with her oldest son and his wife after moving to Turney, MO in 2009.
Visitation from 10:00-11:00 a.m. with Memorial Service at 11:00 a.m. Friday, October 20th at the First Baptist Church, Lathrop, MO.
Donations may be made to the First Baptist Church of Lathrop Building Fund. 

Tweet
Share
Link
Plus
Pin
---