In Remembrance of James Floyd "Smitty" Smith

James Floyd "Smitty" Smith
Date of Death: 03-31-2021
Funeral Service : 04-24-2021
---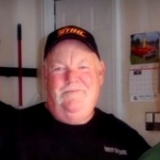 James Floyd Smith (Smitty) passed away on March 31, 2021 at the age of 71, in his home while surrounded by his wife and children. 
Floyd married his soulmate, Helen Alvarez, September 3, 2000. Combined, their family consists of seven children and 15 grandchildren. 
Floyd was a man of honor and a true patriot. He was a Vietnam Veteran who served as Seabee in the United States Navy and held the highest regard for all service men and women. He was a man of faith and a member of Good Shepherd Catholic Church in Smithville, MO for over 30 years. He worked through the age of 55, spending the last 16 years enjoying retirement. Floyd came from a large family. He was one of six children. Floyd was a loving husband, the guiding light for his children and an adoring grandfather. Smitty treated friends like family. He had a gift of recognizing authenticity in people and connected with good-hearted individuals. 
In honor of his memory a celebration of life gathering will be held on Saturday, April 24th from 4-8 pm at the American Legion, 2607 RT 92, Smithville, MO 64454.

Tweet
Share
Link
Plus
Pin
---