In Remembrance of Jacquelyn Chain

Jacquelyn Chain
Date of Death: 11-10-2020
Funeral Service : 11-10-2020
---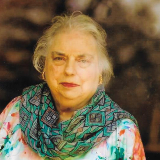 Jacquelyn Chain, October 16, 1939 – November 10, 2020.
Jacquelyn spent the majority of her childhood in Columbia, Missouri. Her parents were Arthur and Mildred (Brasher) Chain.
She graduated with honors from both Stephens College and the University of Missouri-Columbia.
Following graduation, she moved to Washington, D.C. where she worked on special projects for the U.S. government, using her Russian language skills during the Cold War. Years later, she moved to St. Louis.
Her primary hobby was birdwatching. She led two groups each week, was active in the Missouri Birding Society, and was eager to help and educate people new to birdwatching. Jacquelyn traveled all over the world, combining her career as a professional travel agent with birding.Jacquelyn was a devoted daughter, family member, and had a network of good friends, some lifelong. She was civic-minded and generous in her support of fine arts, libraries, St. Louis Symphony Orchestra, and the Salvation Army.
At her request, no services are planned.

Tweet
Share
Link
Plus
Pin
---