In Remembrance of Jack Youtsey

Jack Youtsey
Date of Death: 09-27-2018
Burial: Community of Smithville Memorial Cemetery
Funeral Service : 10-01-2018
---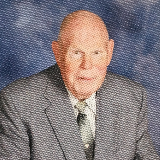 Jack M. Youtsey, 89, of Smithville, MO passed away, Thursday, September 27, 2018.
He was born on June 29, 1929 to Clarence M. and Helen G. (Watson) Youtsey in Smithville, MO. Jack graduated from Smithville High School in 1948. He then worked for Hammett Electric in Kansas City from 1948 to 1953. Jack was drafted into the U.S. Army in 1951 and served his country during the Korean War. 
On February 27, 1965 he was united in marriage to Rita Y. Blain. After their marriage they lived in Smithville where they made their home. His wife, Rita, preceded him in death on February 15, 2006.
In 1954 Jack went to work for Tire Supply Company as a budget manager, and in 1967 became manager. In 1973 he became part-owner of the Tire Supply Company and retired in 2005.Jack was a member of the First Baptist Church in Smithville, where he served as Deacon since 1977 and recently bestowed the honor of Deacon Emeritus. He also served as Chairman of the Trustees at the church.
He was also preceded in death by his parents, brother, Robert Youtsey, and sister, Betty Ann Darnell, brother-in-law, Virgil Darnell, and nephews, little Bill Forsyth and David Youtsey.
He is survived by his children, Cheryl Chiles and husband David and Gary Youtsey; grandchildren, Jasmine Howard and Jacob Youtsey; sister, Carolyn Forsyth and husband Bill; brother-in-law, Charles "Stew" Blain and wife Barbara; sister-in-law, Kathleen Youtsey; several nieces and nephews, other relatives and many friends.
Funeral Services: 2:00 p.m. Monday, October 1st at the First Baptist Church in Smithville with visitation prior to the service from 12:00-2:00 p.m.
Burial: Community of Smithville Memorial Cemetery.Donations: First Baptist Church.Arrangements, Hixson-Klein Funeral Home, Smithville.

Tweet
Share
Link
Plus
Pin
---