In Remembrance of Irvin "Bud" Reineke

Irvin "Bud" Reineke
Date of Death: 09-06-2020
Burial: Platte City Cemetery
Funeral Service : 09-06-2020
---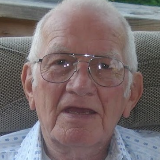 Irvin Guy ("Bud") Reineke, formerly of Platte City, Missouri, passed away September 6, 2020 at The Gardens at Barry Road, Kansas City, Missouri. He was 92 years of age. 
Irvin was born in Gashland, Missouri, on December 12, 1927, to Walter Reineke and Geneva Belle (Miller) Reineke. He graduated from Platte City High School, where he competed in track, football and basketball.
Irvin was a veteran of World War II. He served in the US Army, in Tokyo, Japan, as a member of General MacArthur's Honor Guard. 
On October 25, 1951, Irvin was united in marriage to Elsie Maye Lamar, in Liberty, Missouri. They had two sons, Ryan and Kevin. Irvin was a dedicated husband and father. He was a member of First Baptist Church, Platte City, where he formerly served as deacon and was involved with helping build the church at the Ferrel Street location, completed in 1972. Irvin was a carpenter by trade and helped build and or renovate many homes in Platte City and the surrounding area. He served as Platte County Collector in the mid-1970s. Lastly, in 1995, Irvin retired from the VA Medical Center in Leavenworth, Kansas. 
Irvin was active in the local Platte City Jaycees in the mid-1960s and served as a Platte County School Board member in the late 1960s-early 1970s. Irvin was an outdoorsman, and loved gardening, fishing, hunting and mushroom hunting. He enjoyed and was involved in sports with his kids and grandkids and formerly served as president of the athletic league and director of the Platte Valley Baseball League. He always enjoyed visiting with friends and family. 
Irvin was preceded in death by his parents and two brothers, James "Jim" Reineke and Kenneth "Dink" Reineke. Survivors include his wife of 68 years, Elsie; brothers David Reineke (Jan) and Dannie Reineke (Donna); sister Ida Beth Cox (Craig); sister-in-law Peggy Reineke; sons Ryan (Susan) and Kevin (Janis); grandchildren Laura Lee (Brian), Eric, Mark (Ashley), and Kelly Netzer (Joseph); great-grandchildren Zach, Billy, Lucy, Clara and Kinley; and many nieces, nephews, cousins and friends.
Burial services will be private at the Platte City Cemetery, and a Celebration of Life/Memorial will be scheduled at a future date.
In lieu of flowers, memorial contributions with a notation of "in Memory of Bud Reineke" may be given to The Gardens at Barry Road, 8300 NW Barry Road, Kansas City, Missouri 64153.
Arrangements Hixson-Klein Funeral Home, Gower.

Tweet
Share
Link
Plus
Pin
---