In Remembrance of Homer Goad

Homer Goad
Date of Death: 11-01-2022
Burial: Greenlawn Cemetery
Funeral Service : 11-05-2022
---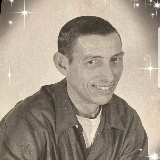 Homer Goad, 96, of Plattsburg, MO passed away, November 1, 2022.
He was born on January 5, 1926 to Samuel and Myrtle (Quinn) Goad in Plattsburg, MO where he grew up and attended school.On January 21, 1955 he was united in marriage to Mary Gardner. After their marriage they lived in Plattsburg where they made their home. His wife, Mary, passed away on April 6, 1992.
Homer was a truck driver for Newby Brothers many years. He then worked at Oakridge in Plattsburg until his retirement. Homer enjoyed fishing, the outdoors and spending time with his grandchildren.
He was also preceded in death by his parents, siblings, Zelma, JT, Nathan, Shelby, Leona, Wonedith, Minnie, and Geneva; an infant brother; son-in-law, Greg Carter; nephews, Paul Goad, Ed Dickinson, Jack Burton, and Leon Wright.
Homer is survived by his daughters, Frances (Bill) Hubbard, Donna (Archie) Chambers, Dell Carter and Connie (Fred) Trayler; grandchildren, Billy (Amanda) Hubbard, Cori (Matt) Chapmond, John Trayler, Sam Trayler, Brandy Chambers, Shelby Chambers, and Mary Carter; nine great-grandchildren; several nieces and nephews, other relatives and many friends.
Funeral Service: 11:00 a.m. Saturday, November 5th at the First Baptist Church in Plattsburg with visitation one hour prior to the service.
Arrangements, Hixson-Klein Funeral Home, Gower.

Tweet
Share
Link
Plus
Pin
---