In Remembrance of Hildegard Krueger

Hildegard Krueger
Date of Death: 10-29-2020
Funeral Service : 11-06-2020
---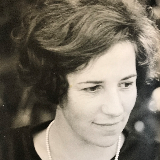 Die Menschen, die von uns gehen und die wir lieben, verschwinden nicht. Sie sind immer an unserer Seite … jeden Tag … ungesehen … ganz nah bei uns. Für immer geliebt und für immer vermissts, bleiben sie für immer in unseren Herzen.

The people who pass away and who we love don't go away. They are always by our side ... every day ... unseen ... very close to us. Forever loved and forever missed, they stay in our hearts forever.

In Liebe und Dankbarkeit nehmen wir Abschied von meiner lieben Ehefrau fuer über 53 Jahre, unsere herzensgute Mutter, Tante, Oma und UromaWith love and gratitude we say goodbye to my dear wife for over 53 years, our kind-hearted mother, aunt, grandma and great-grandma

Hildegard Krueger kam am 8. Dezember 1939 in Bedburg, Erft Kreis als Tochter von Anna und Vinzenz Heuser zur Welt. Das Nesthäkchen der insgesamt vier Geschwister heiratete am 28. April 1967 Hans Guenter Krueger. Hildegard Krueger was born on December 8, 1939 in Bedburg, Erft Kreis, as the daughter of Anna and Vinzenz Heuser. The baby of the four siblings married Hans Guenter Krueger on April 28, 1967.
Hillimäuschen war immer fuer Andere da. Ob mit 18 Jahren als Haushälterin in Berlin im Kloster oder auf dem Bauernhof von Onkel Peter, ….. Fuer Hildegard war die Familie alles! Unsere Mama war die Mama eines Jeden der sie kannte.Hillimäuschen was always there for others. Whether at the age of 18 as a housekeeper in Berlin in the monastery or on Uncle Peter's farm... For Hildegard family was everything! Our mom was the mom of everyone who knew her.
Sie war lebenslustig, eine rheinisch Frohnatur bis zu einer misslungen Gesichtsoperation, welches ihre Leben negative verändert hat. Sie hat versucht das Beste daraus zumachen.She was fun-loving, a cheerful nature from the Rhine river up to the failed facial surgery, which changed her life negatively. She tried to make the best of it.
Diese schöne Frau hat in Ihrem Leben VIEL gearbeitet und VIEL Schmerzen aushalten müssen. An ihrer Seite war immer ihr Ehemann, unser Papa, unser Opa und Uropa, der sie auch jetzt auf dem letzten Schritt begleitet. This beautiful woman has worked A LOT in her life and endured A LOT of pain. At her side was always her husband, our dad, our grandpa and great-grandpa, who now accompanies her on the last step.
Memorial Service:  3:00 p.m. Friday, November 6th at Hixson-Klein Funeral Home, Smithville.
Tweet
Share
Link
Plus
Pin
---