In Remembrance of Herman Buter

Herman Buter
Date of Death: 05-12-2023
Burial: St. Joseph Catholic Cemetery
Funeral Service : 05-18-2023
---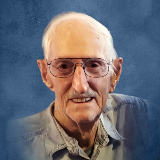 Herman Buter, 95, of Easton, MO passed away May 12, 2023.
He was born on November 10, 1927 to Herman John and Mary (Rath) Buter in Dunlap, Iowa where he grew up and attended school. He proudly served his country in the United States Army during the Korean War. After his honorable discharge, he returned to Dunlap. While working road construction in Wathena, KS, he met the love of his life Darlene. 
On April 17, 1954, he married Frances Darlene Erb. After their marriage they lived in St. Joseph, MO and in 1969, they moved to Easton, MO where they made their home and raised their family. They were married for 66 years. Darlene passed away on January 9, 2021. 
He was a member of St. Joseph Catholic Church in Easton, MO, Easton's Lions Club and American Legion. 
Herman retired as a heavy line mechanic from Nastrom Chevrolet in St. Joseph after 33 years. He enjoyed gardening, farming, doing chores, mushroom hunting with his dog Brownie and mowing on his zero-turn mower. Most of all Herman loved playing cards with his family. Herman was a proud veteran and honored his country by raising and lowering the American flag daily. 
He was preceded in death by his parents Herman and Mary, his wife Darlene and 12 brothers and sisters Albina, Alfred, Agnes, Leona, Tony, Lawrence, Madonna, Delores, Monica, Wilfred, and Rosita. 
Herman is survived by sons, Mark (Rhonda) Buter, Calhoun LA; Michael Buter and Mitchell Buter both of Easton, MO; daughters, Mindy (Jeff) Pettijohn, Stewartsville, MO, and Marlene (Wes) Deweese, Easton, MO; grandchildren, Kyle, Kaylee, and Ashton; step-grandchildren, Gloria, Gabby, Kaylen, Reynna, and Shelby; numerous nieces, nephew, other relatives and many friends. 
Rosary: 6:00 p.m. with Visitation following until 8:00 p.m. Wednesday, May 17th at Hixson-Klein Funeral Home, Gower
Funeral Service: 10:00 a.m. Thursday, May 18th at Hixson-Klein Funeral Home, Gower
Burial with Military Honors: St. Joseph Catholic Cemetery, Easton, MO.
Donations may be made to St. Jude's Children's Hospital or Honor Flight of Kansas City.

Tweet
Share
Link
Plus
Pin
---