In Remembrance of Harold Dennis

Harold Dennis
Date of Death: 09-25-2022
Funeral Service : 09-29-2022
---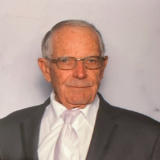 Harold Dean Dennis, 89, of Plevna, KS passed away September 25, 2022, in St. Joseph, MO. 
Harold was born in Wichita, Kansas to Fay and Lois Dennis on September 13, 1933. He grew up in Plevna, Kansas on the family farm with his younger brother Bob and younger sister Sharon. Harold graduated from Plevna High School and served his country in the United States Army. 
Harold married his high school sweetheart Helen Ernestine "Tina" Nusser on January 21, 1956, and they were married for 66 years. They lived on the family farm where they raised their three kids, Jeanette, Janelle and David. He enjoyed boating, flying, racing, motorcycles, and off-roading. Harold lived his life to the fullest. He was the most kind and loving husband, father and grandfather who will be dearly missed. 
He was a member of the Emmanuel Lutheran Church in Hutchison, KS. 
Family meant the world to Harold. He is survived by his wife Tina Dennis; his 3 children and 7 grandchildren: Jeanette Cole in Overland Park, KS (Ron Thomann) and grandchildren Jordan Cole (Steve Fuest), Lyndsey Cole (Ryan Crawford), Madison Cole, Abby Thomann and Kelsie Thomann; Janelle Dennis in Chicago, IL; David Dennis in Trimble, MO (Taffi) and grandchildren Rylee and Baylee. Harold is also survived by his sister Sharon Gagnebin (Jack) in Abbyville, KS and his sister-in-law Caroline Weber in San Francisco, CA.
He was preceded in death by his parents, Fay and Lois Dennis; brother, Bob Dennis, sisters-in-law Pat Dennis, Esther Brown, Vera Fesler, brother-in-law Art Nusser, mother and father-in-law Ernest and Helen Nusser, and son-in-law Larry Cole. 
Visitation  will be from 4:00-6:00 pm Wednesday September 28th at Hixson-Klein Funeral Home, 109 N 3rd Street Gower, MO 64454
Private family graveside services will be held in Hutchison, Kansas
Memorial contributions may be made to Freudenthal Hospice, 2425 N Woodbine Rd Suite A St. Joseph, MO 64506.
Arrangements by Hixson-Klein Funeral Home, Gower, MO.

Tweet
Share
Link
Plus
Pin
---