In Remembrance of Glennon J. Kullman

Glennon J. Kullman
Date of Death: 01-07-2018
Burial: Community of Smithville Memorial Cemetery
Funeral Service : 01-10-2018
---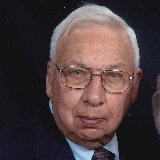 Glennon J. Kullman, 89, of Gladstone, MO formerly of Smithville, MO passed away, Sunday, January 7, 2018.
Glennon (Glenn) J. Kullman was born in Valley Park, MO on June 12, 1928 to Gabrielle (Tourigny) and August P. Kullman. He died on January 7th, 2018. Glenn was the first grandchild on both sides of the family and was loved by many aunts and uncles.

His family moved many times while they lived in St. Louis; in 1942 they moved to Cottleville, MO to be closer to where August worked at the TNT Plant at Weldon Springs, MO.

He graduated St. Peter's High School Class of 1946, then enlisted in the US Air Force on his 18th birthday. He served tours in the Panama Canal Zone and Nicaragua. When he was discharged, he took advantage of the G.I. Bill and attended DeForest Electronics School in Chicago (now DeVry University).

He met Arlene on the 4th of July weekend 1951 when she accompanied his sister, Dorothy, on a visit to Chicago. They began dating and, while courting her, he promised her that, if she'd marry him, he would "show her the world". He kept his word, traveling with her to all 50 States and more than 20 countries. They were married on October 2, 1954 and moved to a new home he designed in Manchester, MO. Later, they moved to Gladstone and in 1963 bought a farm near Smithville. That was home for them until 2010 when they moved to Gladstone again.

His work career began as an electrician at the American Car & Foundry Company in St. Charles. In 1952 he began a 38-year career with the Missouri Pacific RR. He took enormous pride in his work and used his mostly self-taught skills to invent a number of devices including prototypes of a scanner and intermittent windshield wipers. He incorporated many of his inventions into the systems he built and installed at the railroad.


A child of the Great Depression, he had an amazing ability to repair anything electrical or mechanical. Whether it was a broken hay baler, Arlene's sewing machine or one of his computers, he had an uncanny ability to examine a machine and understand how it worked.

He volunteered throughout his life, teaching photography to 4-H members, taking photos of 2nd graders making their First Communion at St. Charles Parish in Gladstone, and serving many years as Secretary for his local IBEW #124 Union. In 1990, he began volunteering for the Wegener's Granulomatosis Support Group (now the Vasculitis Foundation).


He was a woodworking craftsman and built unique wood clocks for each of his children and grandchildren. He exhibited his clocks at the Missouri State Fair and won several awards.
In 1968 he and Arlene hosted a picnic for the Catholics in the Smithville area, where attendees laid the groundwork for the founding of the Good Shepherd Catholic Church.
Glenn is survived by Arlene, his wife of 63 years, children Judy Kullman, David (Paula) Kullman, Steven Kullman, Joyce Kullman and John (Neke) Kullman and by 13 grandchildren and 5 great-grands. His daughter, Jeanie Kullman, preceded him in death. He is survived by his sisters Dorothy Tighe, Mary Lou Steinwachs, and Ann Kullman, and by brothers Ed (Gladys) Kullman, Guy Kullman, Robert (Nancy) Kullman, Thomas Kullman, and 34 nieces and nephews. His brother, James, preceded him in death.
Visitation will be January 10, 2018, from 1 – 3 p.m. at Hixson-Klein Funeral Home in Smithville, followed by private burial.
Donations may be made to the Vasculitis Foundation at
www.vasculitisfoundation.org
or P.O. Box 28660, Kansas City, MO
64188.
Tweet
Share
Link
Plus
Pin
---