In Remembrance of Georgia Moore

Georgia Moore
Date of Death: 04-02-2023
Funeral Service : 04-29-2023
---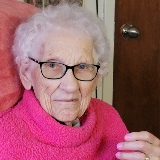 Georgia Walberg Moore, 91, of Gower, Missouri, met her Savior face-to- face on Palm Sunday, April 2, 2023. 
Georgia was born July 16, 1931 in Lee's Summit, Missouri, to George and Emaline Walberg, the first of four daughters. Despite growing up during the Depression, Georgia spent a relatively carefree childhood in Lee's Summit where she was known for her jubilant personality, not being able to keep a secret, and her frequent horseback rides from downtown Lee's Summit to Longview Farm. 
Georgia graduated from Lee's Summit High School in 1949 and from Southwest Baptist College in 1951. She met her love, S.E. Moore, while both were attending school at SWBC in Bolivar, Missouri. They were married in 1951 and shared their lives together for 63 years before he died in 2014. Georgia's adult life revolved around raising her family of four children, and the various activities associated with being a pastor's wife. His profession took them to many different places in the Midwest in Missouri, Kansas, Illinois, and Iowa. After her children left the nest, Georgia worked as secretary for the Lee's Summit Chamber of Commerce, as well as several other jobs throughout the years.
Georgia is remembered as one who brought light and laughter to nearly every situation, and was just a fun person to be around. She loved engaging people and hearing their stories. It was said if she got on an elevator, she would make at least one new friend before the elevator stopped.
In 2013, S.E. and Georgia moved in with their son John and his wife Dee in Edgerton, Missouri, where they had their own apartment. This was a perfect set-up, and Georgia was grateful to be living with family after she was widowed. She thrived there for eight years, where she enjoyed flower gardening, bird watching, and actively tending Monarch butterflies. In addition to her love of nature, Georgia was a musician who played the piano and loved singing. In her eighties, she took up the ukulele, forming a band named Ukulele Fire. In their matching tee-shirts, Georgia and her two teenage protégés, Sam and Cooper, performed in different places, including the shopping mall in St. Joseph, where their "gigs", as she liked to call them, raised money for the Salvation Army.In 2021 with declining health, Georgia moved into Gower Convalescent Center where she made new friends, continued to play the piano and ukulele, and kept a rather impressive hidden stash of chocolate. Her family spent much time there with her, and would like to express their appreciation for the gentle and loving care provided by the staff, as well as the nursing care given to her by Freudenthal Hospice.
Georgia was reunited in Heaven with her husband, her parents, and two sisters, Barbara Langsford and Diane Sperber. 
She will be forever loved and missed by her four children, Pam Barreth, Independence; Dennis (Teckla) Moore, Springfield; John (Dee) Moore, Edgerton, MO, and Ron (Jenny) Moore, St. Joseph; twelve grandchildren, Ben (Meredith) Barreth, Jake (Melody) Barreth, Becky (Jeff) Lee, John Barreth, Aaron (Shanna) Moore, Tiffany (Lee) Aronson, Alex Moore, Cindy Fulk, Caleb (Megan) Moore, Joanna (Anthony) Hays, Gracie (Dayton) Strong, and Sam Moore; 22 great-grandchildren; and one sister, Jo Lynn Draper, Lee's Summit. Georgia also leaves behind several cousins, nieces and nephews, and many friends of all ages whom she considered family.
Memorial Services scheduled for 11:00 a.m. Saturday, April 29, 2023, at Frazier Baptist Church (13601 State Route E SE, Agency, MO 64401).
The family suggests donations in Georgia's memory to the Annie Armstrong Easter Offering at the church. 
Arrangements by Hixson-Klein Funeral Home in Gower, MO
Tweet
Share
Link
Plus
Pin
---