In Remembrance of Gary Lee Stephens

Gary Lee Stephens
Date of Death: 11-24-2017
Funeral Service : 11-25-2017
---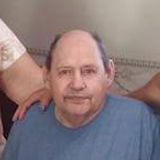 Gary Lee Stephens, 76, of Easton, MO passed away November 24, 2017.
He was born on July 21, 1941 to Edgar Leland "Steve" and Lois Louise (Lewis) Stephens in Altamont, MO. Gary attended school in Altamont and later Easton High School in Easton, MO.
Gary lived in Stewartsville, MO, returning to Easton in 2011. He worked for Day Excavating and retired from Armour Packing House in St. Joseph, MO. Gary enjoyed fishing, working on cars and listening to old country music.
He was preceded in death by his father Edgar "Steve" Stephens, mother Louise Lidgett and his brother-in-law Louis Day.
Gary is survived by sisters Kay Day and Sonyia Sue Akes and husband James; brother Roger Stephens and wife Linda; several nieces and nephews; other relatives and many friends.


Private family services will be held at a later date.
Donations may be made in his memory c/o the funeral home.
Arrangements Hixson-Klein Funeral Home, Gower.
Tweet
Share
Link
Plus
Pin
---