In Remembrance of Gary Alan Dennis

Gary Alan Dennis
Date of Death: 11-25-2018
Funeral Service : 11-30-2018
---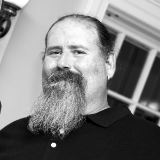 Gary Alan Dennis, 46, of Dearborn, MO passed away November 25, 2018.
He was born on February 28, 1972 to Michael Joseph and Peggy Lynne (Duncan) Dennis in Kansas City, KS. Gary grew up in Trimble, MO, and in 1990 he graduated from Plattsburg High School.
As one of the Missouri Ghost Hunter co-founders, Gary devoted many evenings and late nights with his "cuzs", Dustin and Kel Dennis, who were more like brothers to him. Through these adventures, they spent many hours in deep conversations about the meaning of life. While growing up, Gary was not only the oldest brother to Dustin and Kel, but also a loving son, nephew, grandson, and friend. Over Gary's life, his tender hearted nature was welcomed by many families who, in time, considered him a part their family. With these close relationships, he spent a vast amount of his life being there for, and spending time with, others.
He was preceded in death by his father, Mike Dennis; grandparents, Clyde and Fern Duncan and Joseph and Dorothy Dennis.
Gary is survived by his mother, Peggy Matthys, and husband, Robert; aunt and uncle, Jerry and Terry Dennis; other relatives and many friends.
Memorial Service at 6:30 P.M. Friday, November 30th with visitation following until 8:30 P.M. at Hixson-Klein Funeral Home, Edgerton. 
Family Inurnment Service at Ridgley Cemetery, Ridgley, MO.

Tweet
Share
Link
Plus
Pin
---