In Remembrance of Everett R. Bennett

Everett R. Bennett
Date of Death: 03-05-2021
Funeral Service : 03-20-2021
---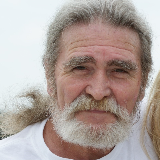 The world felt a little smaller today in the wake of Everett Ray Bennett's passing. He took his last breath quietly at 10:55pm on March 5th 2021 in the comfort of his home. We can all be so fortunate to be surrounded by those we hold dearest when our time comes. 
Everett, born in Saint Joseph, MO to Irene and John Bennett on June 18th 1952 lived the kind of life one might read about or watch on the big screen. With adventures to spare and a heart too large to describe, he definitely supported the idea that it's more than blood that makes someone family. He deeply cared about these bonus additions to his life that were his friends as well as those he was directly related too. 
He was a man of many hats and a Jack-of-all-trades. His passions included motorcycles, hotrods, fishing and most of all his passion for his wife of nearly ten years, Debbie J. They dated for eight year but time flies when you're having fun and who's really keeping count?
There are so many good memories in a life lived so richly- Fishing at Adkins pond, a slice of pie at Corner Café, playing Santa for all the Grandjewels (grandchildren), or catching up with long distance friends and family. Be it a ride in the 29 Ford Coupe or the 46 Knucklehead he enjoyed being the coolest Pop-E he could be as well as the righteous dude we all came to know and love. 
We can take comfort in knowing that while he's no longer with us, he's been reunited with those who braved this final journey ahead of him. Among them are Irene (mother), John (father), Tub (brother), Ronnie (brother), Karen (Sister), Parsley, Toad, Parker, Julie, Speechless, Sid, Mouse, Terry and many more. 
No doubt his absence will be heavily felt. A life so colorful leaves it's mark not just on our hearts but in the world around us. So many places sport his handiwork with interior remodeling and so many lives were enriched by his touch. It's hard to imagine moving forward without him when his presence lingers so strongly in so many ways. 
For the rest of us, left behind on this last grand adventure:
Bonus Children- Jessica (Josh), Tristen (Andrea), Rachel (Josh)
Grandjewels- Olyvea, Ian, Bennett, Lily, Peyton, Tynan and Aiden
Fids (Feathered Kids) – Nikki, Casper, and Merlin II
Siblings- Sharon (Tub) Hunt, John (Pixie) Bennett, Steve Halopoff (Brother from another Mother)
Nieces – Stacy Hunt (Wes), Carey (Marvin) Cox, Andrea (Deron) Jacobs, Whitney Bennett, Carla, Laura, Anita (David)
Nephews – Jarod Bennett, Steve Fanning
Great Nieces and Nephews – Danielle Keith, Aaron (Andrea) Keith, Kayla Huffman, Dakota Cox, Erica (Taylor) Hignight, Jason Jacobs, Jamie, Kendra, Brittany, Megan, Ashely and Jared
There's so many more that counted as family- even if tradition and blood didn't make it official.
We will have to take comfort in one another and in the consolation that when our time comes, he'll be waiting for us… and it just wouldn't feel like coming home if it were any other way. 
Nothing but smooth asphalt for you now as you head for those pearly gates… ride free. 
Everett touched so many hearts, played a role in so many stories and memories. We encourage you to use the guest book to share your favorites as well as any photos you might have or to just leave a message for Everett if you so choose. 
Celebration of life will be held on March 20th between 2- 6pm at the Old Southside Hall by Spanky and Buckwheat's. 302 Illinois Ave, Saint Joseph Mo 64504.
Last Ride from Rushville to Southside Hall 1pm – Shaggy (Jean) Lewis.  If you'd like to join in the ride meet at the Rushville school parking lot.
Mingling from 2-3  Celebration of Life 3-4 (Think of the stories you would like to share) 5-6 Share a meal of Everett's Favorites
Please come join us in celebrating a life well lived.

Tweet
Share
Link
Plus
Pin
---