In Remembrance of Eugene G. Utz

Eugene G. Utz
Date of Death: 09-07-2017
Burial: Allen Cemetery
Funeral Service : 09-11-2017
---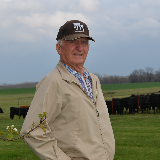 Eugene G. Utz, 87, of Gower, MO passed away, Thursday, September 7, 2017 at his home.
He was born on July 15, 1930 to Gordon Carol and Cecilia Mary (Schweitzer) Utz in St. Cloud, Minnesota. The family moved to Nashua, MO in 1941, in 1944 they moved to Holt, MO and he graduated from Holt High School in 1948.
On February 18, 1951, he was united in marriage to Wanda Lee Bray. After their marriage, they lived in Plattsburg. In 1967, they moved to their farm near Gower where they made their home.
Eugene was a dairy farmer for several years. He also raised cattle, hogs, corn, soybeans,
wheat and alfalfa.
He was preceded in death by his parents, granddaughter, Gwyn Utz, great-granddaughter, Courtney Proffit, daughter-in-law, Beverly Utz, brothers, Dick Utz and Fred Utz, sister,Vera Noggle, and sister-in-law Betty Hopkins.
He is survived by his wife, Wanda, of the home; sons, Teddy Utz and wife Linda, Timmy Utz (Twila) and Tony Utz (Deanna); daughter, Tammi Utz; grandchildren, Tabatha Proffit, Sarah (Brian) Gamet, Josh (Annie)
Utz, Matt (Stephanie) Utz, Travis (Devin) Utz, Tyson (Stacey) Utz, Taci (Scott) Snyder, and Jessica (Cody) Dennis; great-grandchildren, Cody, Jake, Riley, Lindsey, Desirae, Tucker, Lily, Cordila, Josie, Carson, Cameron, Caroline, Gavin, Brooklyn, Hadley, Hank, Wren, Autumn, Hudson, and Denver; sisters, Carol Martin (Les) and Virginia Wheeldon; brothers, Tom (Sandra) Utz, Jerry Utz and Bob Utz; brother-in-law, Tom (Barbara) Carrington; several nieces and nephews, other relatives and many friends.
Funeral Services: 11:00 a.m. Monday, Sept. 11th at Hixson-Klein Funeral Home, Gower
Burial: Allen Cemetery.
Visitation: 4:00-6:00 p.m. Sunday at the funeral home.
Donations may be made to the FFA Alumni Association.
Tweet
Share
Link
Plus
Pin
---