In Remembrance of Ed Stalder

Ed Stalder
Date of Death: 10-21-2023
Funeral Service : 10-27-2023
---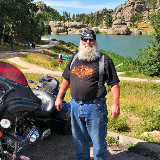 Visitation: Thursday, October 26, 2023 Time: 5:00 P.M. – 7:00 P.M.  Memorial Service: 7:00 P.M. Location: Heafey Hoffman Dworak & Cutler7805 West Center Rd. Omaha, NE 68124 
Celebration of Life: Thursday, October 26, 2023Time: following memorial service.  Location: Joe's Duck Inn Bar 13336 Millard Ave. Omaha, NE 68137 
Graveside Services: Friday, October 27, 2023Time: 4:00 P.M.- 4:30 P.M.  Location: Judy's Cemetery in Wallace, MO 
Celebration of Life: Friday, October 27, 2023Time: 4:30 P.M. – 12:00 A.M.   Location: Dearborn Community Center 205 North Commercial Dearborn, MO 64439 ** Food will be provided**
In lieu of flower the family is asking donations to be made to Big Red Wrestling club.  https://account.venmo.com/u/BigRedBoys

Edward "Ed" Harlan Stalder was born December 1st, 1954, in Fort Meade, Maryland, to his loving parents, Harlan Ray Stalder & Cynthia Catherine Stalder. 
Ed's father, Harlan, was a Sergeant First Class E-7 in the U.S. Army and in 1955, they moved over to Kaiserslautern Germany Landstuhl Air Base, where his sister Cindy was born in 1957. His father Harlan eventually retired in 1969 and moved his family back to Smithville, Missouri. Ed's father, Harlan, passed away at the very young age of 39. 
Ed was a very stubborn and feisty young man and his mom, Cynthia, sent him to Wentworth Military Academy in Lexington, Missouri in 1970. Cynthia Catherine remarried in 1971 to Donald "Pulley" West Pulliam and his brother Justin "Ryan" Pulliam was born in 1974. Ed met his future wife, Ellen Elizabeth Sellars when he moved back home to attend North Platte High School in Dearborn, Missouri. Ed and Ellen got married their senior of high school, on Ed's birthday, December 1st, 1972. Shortly thereafter they had their first son, Daniel Ray Stalder on July 5th, 1973.
Ed joined the Chicago Northwestern Railroad on June 1, 1973, as a conductor/ brakeman in Kansas City, Missouri. He was soon promoted to yardmaster, making him the youngest yard master in the country during that time. 
Their second son, Zachary Todd Stalder, was born in Smithville, Missouri on October 21st, 1978. During this time, Ed was also a volunteer member of the Edgerton Fire Department from 1978-1981. 
Ed and Ellen had their only daughter Megan LeeAnn (Stalder) Tollefson on June 10, 1983, in Smithville, MO. Shortly thereafter, the Kansas City Railroad yard shut down, and Ed relocated his whole family to Omaha, NE. 
Chicago Northwestern was acquired by the Union Pacific Railroad in 1995. Ed served various roles, always prioritizing his role and schedule, to accommodate his family. He never missed a single practice or game of his 3 kids, whether it was wrestling, football, baseball, softball, or track. He retired from his epic 43-year tenure with the railroad to do what he always wanted to do, which was to be a grandpa to his grandbabies.
Ed Stalder was a loyal, faithful, and proud grandpa "Papa". His devotion to his 7 grandchildren went unmatched. He poured his knowledge and experiences into Tucker Niles (15), Cade Harlan (12), David Samuel (9) [Megan and David Tollefson's sons], Emerson Elizabeth (7) [ Zach and Tiffany Stalder's daughter], and Jordyn Payge (22), Morgan Elizabeth (15) and Meagan Marjorie (11) [Dan and Sasha Stalder's daughters].
Even after being diagnosed with stage 4 Esophageal Cancer, he continued to fight valiantly to spend as much time with his family as possible. Ed invested his time and energy in his grandbabies' activities, including school functions and sporting events. Time spent at Grandpa's house meant eating junk food, sneaking Mountain Dew and Kit Kats, using tools, gardening, sanding, swimming in the pool, and starting a lot of bonfires. There were no rules at grandpa's house. He always preached that, "What happened at Grandpa's, stayed at Grandpa's!"
Beyond his time spent with his grandbabies, Ed was a die-hard Raiders fan (along with any other team his son-in-law David played for in the NFL) Whether it was attending the 2011 Super Bowl game, numerous wrestling meets, and softball tournaments he was a sports enthusiast and kids/grandkids biggest supporter. He was always in the middle of a never-ending project or idea he found scrolling on Pinterest. He was a true believer in Big Foot. Ed loved to "EXCESSIVELY" tinker in the garage on his Harley Davidson Road King. He also poured his talents into woodworking and building furniture for family and friends. Ed's backyard was his own Oasis constantly under construction. With the best of intentions, Ed's projects often extended to other people's properties and shrubbery, not always with their permission, but would be offended if they were not appreciative. 
Whether Ed was your husband, dad, brother, uncle, grandpa, friend, or foe, those who knew Ed, know that he loved hard and fought hard for those he loved to the very end!!
Proceeded in death by his father, Harlan Ray Stalder and Mother Cynthia Catherine. Father-in-law John Daniel Sellars Jr. and Mother-in-law Laura Elizabeth Sellars. 
He is Survived by his wife of 51 years, Ellen (Sellars) Stalder; Children, Daniel Ray Stalder (Sasha) Weston, MO; Zachary Todd Stalder (Tiffany) LaVista, NE; Megan LeeAnn Tollefson (David) Elkhorn, NE; Sister Cynthia Charlene Stalder Lawson, MO; Brother Justin Ryan Pulliam (Julie) Lawson, MO; Grandchildren Tucker Niles Tollefson, Cade Harlan Tollefson, David Samuel Tollefson, Emerson Elizabeth Stalder, Jordyn Payge Goetz, Morgan Elizabeth Ball, & Meagan Marjorie Ball and many loving nieces, nephews, aunts, uncles, and friends.
Tweet
Share
Link
Plus
Pin
---