In Remembrance of Ed Mears

Ed Mears
Date of Death: 10-26-2022
Funeral Service : 10-26-2022
---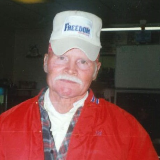 Eddie Gene Mears, 78, of Faucett, MO passed away, October 26, 2022.
He was born on March 25, 1944 to Roy Levi and Opal Mae (Wood) Mears in St. Joseph, MO. He grew up and attended school in Faucett, MO.
Ed and his twin brother, Fred, did custom combining, hay baling and livestock hauling along with Ed's nephews. Ed enjoyed truck and tractor pulling events with family and friends.
He was preceded in death by his parents; his twin brother, Freddie Mears; brothers, Marlin Mears and Merlin Mears; daughter, Jennifer Jumps; and his son, Brian Mears.
Ed is survived by his companion of 32 years, Jane Nash; sisters, Sharon Stafford and Karon Skaggs; grandsons, Jordan Landis, Levi (Helena) Landis and Miles Jumps; great-grandchildren, Jace Landis, Jaelyn Landis, Bailey Landis and Austill G. Landis; numerous nieces and nephews, other relatives and many friends.
No public service at this time. A family gathering will be at a later date.Arrangements, Hixson-Klein Funeral Home.

Tweet
Share
Link
Plus
Pin
---