In Remembrance of Duane "Dewey" Lembke

Duane "Dewey" Lembke
Date of Death: 09-25-2022
Funeral Service : 09-25-2022
---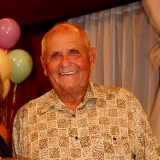 Duane Allen Lembke, 77, of Gower, MO formerly of Ventura, CA passed away, September 25, 2022. 
He was born on April 6, 1945 to Alfred and Geneva (Cassle) Lembke in Albert Lea, Minnesota. Duane grew up and graduated high school in Albert Lea. He then served his country in the U.S. Army.
On December 21, 1986 he was united in marriage to Cheryl Jones. After their marriage they lived in Ventura, California and in 2013 they moved to Gower, MO.
Dewey was a truck driver for T&T Truck and Crane in Ventura, CA for over 25 years. He loved his job tremendously and really enjoyed all his coworkers that soon became his friends, in and out of work. He was a member of the Teamsters Union and loved making sure that he and all the coworkers were represented well. Dewey was actively into drag racing when he was younger and continued to always stay on top of what was going on in that industry. He could never miss an event, whether it was in person or watching TV. He was also into cars and motorcycles. The stories he could tell, always started with I used to have a car/motorcycle like that, he just had a passion for it and it stuck with him throughout the years. We couldn't go anywhere without him seeing someone he knew! He was always in to motorcycles too and soon we had Harley's (can't keep count of how many), but he had such great times, whether riding with the group of guys, or just him and I. Going on long rides to events, or just taking a day ride, that was always his passion and he loved the experience of getting out and meeting people! Throughout his life Dewey NEVER met a stranger he didn't like.
He was preceded in death by his parents and grandparents.
Dewey is survived by his wife, Cheryl; brothers, Dean (Roberta) Lembke, David (Lori) Lembke and Douglas (Melanie) Lembke; several nieces and nephews, other relatives and many friends.
The family will host a Celebration of Life Sunday, October 9th from 2:00-4:00 p.m. at Backwoods Venue.
Flowers can be sent to the house or a donation can be made to the donor's favorite charity.

Tweet
Share
Link
Plus
Pin
---