In Remembrance of Dr. Charles E. Laney

Dr. Charles E. Laney
Date of Death: 08-24-2018
Burial: Leavenworth National Cemetery
Funeral Service : 08-28-2018
---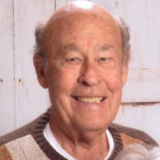 Dr. Charles Eugene Laney, 86, of Edgerton, MO passed away August 24, 2018.
He was born on May 30, 1932 to Clarence and Kathrine Lula (Williamson) Laney in Tioga, TX. Doc grew up in Marietta, OK and graduated from Marietta High School. 
Doc served his country in the US Navy during the Korean War. 
 After his honorable discharge, he received his bachelor's degree in Texas, his master's degree from UMKC and later his doctorate from Cleveland Chiropractic in Kansas City.
On December 31, 1952 he was united in marriage to Pansy LaNell "Mitzi" Russel. After their marriage they lived in California, Arkansas, Texas and in 1973 they moved to Edgerton, MO where they made their home. 
 He worked as a police officer in Dallas, TX, before becoming an insurance claims adjuster for Gay & Taylor in Arkansas, Texas and Missouri for over 20 years. When Doc moved to Edgerton he fulfilled his dream of owning a farm and he also opened Laney Chiropractic in Edgerton and Smithville where he worked until his retirement. 
 Doc was a member of the Mt. Zion Baptist Church, the Edgerton American Legion, the Edgerton Lions Club and was a past member of the Edgerton Chamber of Commerce. He received his pilots license and enjoyed flying aircraft and riding his motorcycles. Doc served as Platte County Coroner, the Mayor of Edgerton and was a circuit court judge in the Platte County area. Doc was a wonderful husband, father, grandfather, and great-grandfather who was known as a master of all. 
 He was preceded in death by his parents and his sisters Verla Jo Lamb and Jackie Ann Pierce.
Doc is survived by his wife Mitzi; children Desiree Lynette Keefhaver and fiancé Paul Swalina, Kim Denise Bowmaster and husband Jay, Genea Lisette McMackin and Charles Heath Laney and wife Amy; grandchildren William (Autumm) Keefhaver, Benjamin (Jordan) Keefhaver, Matthew (Tiffany) Keefhaver, Samuel Keefhaver and fiancé Arlie Burger, Joseph (John) Bowmaster, Falon (Eric) Wagner, Beric Laney, Brandon Laney and Skyler Laney; great-grandchildren Lindsay, Lily, Rylan, Liam, Wyatt, Savannah and Kimber; other relatives and many friends. 
 Visitation: 6:30-8:30 p.m. Monday, August 27th at Hixson-Klein Funeral Home, Edgerton
Graveside Service with Military Honors: 12:30 p.m. Tuesday August 28th at Leavenworth National Cemetery, Leavenworth, KS.  

Tweet
Share
Link
Plus
Pin
---