In Remembrance of Dorothy Shepherd

Dorothy Shepherd
Date of Death: 10-20-2019
Burial: Community of Smithville Memorial Cemetery
Funeral Service : 10-23-2019
---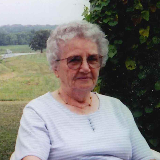 Dorothy Hard (Rhoads) Shepherd, 101, of Smithville, MO passed away October 20, 2019.
She was born on January 1, 1918 to Harry and Letha (Hard) Rhoads in Medora, Illinois. Dorothy graduated from Smithville High School. 
On August 31, 1935 Dorothy married her best friend and the love of her life, Stanley J. Shepherd. After their marriage they raised their two daughters on their family farm in Smithville. Stanley passed away on July 10, 2009. 
Dorothy loved being a farmer's wife. She was also a nurse's aid at the old Spelman Hospital in Smithville. She canned, quilted, sewed, cooked and gardened. She worked hard. She belonged to the Methodist Churches. She will be missed by family and friends. 
Dorothy was preceded in death by her parents Harry Hard and Letha and E.O. Brooks, daughter Peggy Jensen, son-in-law Don Jensen, and brother and sister-in-law Lyle and Randi Rhoads.
She is survived by her daughter Donna Hudlemeyer, Smithville, MO; four grandchildren Danny Hudlemeyer, Stacy Hudlemeyer, Mike Dixon and wife, Vicki, and Pat Dixon and wife, Sheila; six great-grandchildren, Valisha Hester and husband Jim, Travis Dixon and wife Beth, Brandon Dixon, Jamie Dixon, Aaron Heard and Chris Hudlemeyer; seven great-great-grandchildren; other relatives and many friends. 
Funeral Service: 1:00 p.m. Wednesday, October 23rd at the Hixson-Klein Funeral Home, Smithville with visitation from 12:00-1:00 p.m. prior to the service.
Burial: Community of Smithville Memorial Cemetery

Tweet
Share
Link
Plus
Pin
---