In Remembrance of Dorothy Kretzer

Dorothy Kretzer
Date of Death: 01-18-2021
Burial: St. Joseph Catholic Cemetery
Funeral Service : 01-20-2021
---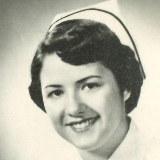 Dorothy Mae (Giles) Kretzer, of Gower, MO passed away January 17, 2021 at 86 in the home surrounded by family.
She was born on January 2, 1935 to Orville and Stella (Wisneiski) Giles in Saint Joseph, MO. She attended school for 7 years at Cathedral and her 8th year at Saint Patrick's. She attended high school at The Convent of the Sacred Heart. Dorothy was a nursing resident at the Saint Joseph Hospital in Kansas City affiliated with the College of Saint Theresa where she worked on the medical ward floor. She then returned to the old Saint Joseph Hospital and worked on the Pediatric and Post-Surgical floor. Dorothy retired from the Gower Convalescent Center where she worked for 25 years as director of Nursing.
On February 9, 1957 she was united in marriage to Richard Michael Kretzer, Sr. and they raised three sons.
She was preceded in death by her parents; husband, Richard; and son, Mark Kretzer; sisters, Betty Saverino, Sue Stone and Dolores Lorenz; brother, Jim Giles; and nephews, Jeff and Daniel. 
Dorothy is survived by her sons, Richard Jr. (Debbie) Kretzer and Ron Kretzer; two brothers, Bill (Joan) Giles and Richard (Maureen) Giles; sister Marge (Harry) Mahlandt; six grandchildren, Anna (Andy) Dailey, Megan, Jaime, Jacob, Mary-Alice and Kelsey Kretzer; and ten great grandchildren; other relatives and many friends.
Mass of Christian Burial: 10:30 a.m. Wednesday, January 20th at Our Lady of Guadalupe in St. Joseph, MO with Visitation from 9:00-10:00 a.m. and Rosary 10:00 a.m. prior to the service.
Burial: St. Joseph Catholic Cemetery, Easton, MO.
Arrangements, Hixson-Klein Funeral Home.
In lieu of flowers Dorothy requested Masses offered or donations to Mosaic Hospice.
Tweet
Share
Link
Plus
Pin
---