In Remembrance of Dorothy Huckaby

Dorothy Huckaby
Date of Death: 03-27-2021
Funeral Service : 04-01-2021
---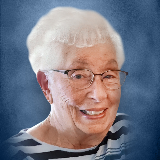 Dorothy Huckaby, 83, of Plattsburg, MO passed away, March 27, 2021.
She was born on August 13, 1937 to Charles Boston and Eleanor Mae (Rogers) Cockriel in Edgerton, MO. Dorothy grew up near Edgerton and graduated from Smithville High School. 
On April 5, 1958 she was united in marriage to Phillip Huckaby in Edgerton, MO. After their marriage they made their home in Plattsburg.
Dorothy worked for State Farm in Plattsburg for over 50 years. She was an avid St. Louis Cardinals fan and an ultimate Plattsburg Tigers fan. Phillip and Dorothy enjoyed Plattsburg Saddle Club events and camping. Dorothy had the honor of carrying the American Flag in the American Royal Parade. She also enjoyed flower gardening.
Dorothy was a faithful longtime member of the First Baptist Church in Plattsburg, where she served as the secretary for many years.She was preceded in death by her parents; brothers, Charles Cockriel and Larry Cockriel; and sister, Connie Hahn.
Dorothy is survived by her husband, Phillip; children, Teresa (Ken) Prettyman, Julie (Scott) Looney; grandson, Michael (Candace) Reed; great-granddaughters, Halle, Maci, and Avery; brothers and sisters, Marie Goad, MaryAnn (Bill) Goad, Marvin (Wanda) Cockriel, Kenny Cockriel, Martha Curtis, Nancy Jo Cockriel, and Meredith Kay Karman; several nieces and nephews, other relatives and many friends.
Funeral Service: 11:00 a.m. Thursday, April 1st at the First Baptist Church in Plattsburg with visitation from 9:00-11:00 a.m. prior to the service.
.Donations may be made to the First Baptist Church in Plattsburg.
Arrangements, Hixson-Klein Funeral Home, Gower.

Tweet
Share
Link
Plus
Pin
---