In Remembrance of Dorothy Allen

Dorothy Allen
Date of Death: 12-19-2021
Funeral Service : 01-22-2022
---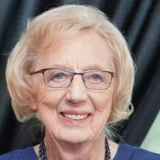 Dorothy Mae Allen, 89, of Kansas City, MO passed away December 19, 2021. 
She was born on September 4, 1932 to Francis Leroy and Lillie Louise (Newberg) Peterson in Burnside, IA. After high school she attended school in Minneapolis, MN to become a lab technician. After moving to Oklahoma, she married Robert Henry Allen on April 5, 1953. They lived in Texas and Oklahoma until moving to Kansas City in 1972. Later they lived in Smithville, MO before moving back to Kansas City. 
She was a member of the First Baptist Church of Smithville working in the nursery, supporting the food and clothing pantry, and as a greeter. 
She was kind and generous and a friend to everyone she met. She loved spending time with her family, and enjoyed painting, gardening and traveling. She retired from North Kansas City School District after many years.
She was preceded in death by her husband, her son John, her parents, and her brothers, Vern Peterson and Archie Peterson. 
She is survived by her children; son James (Julie), daughter Loretta (Mike) Evans, daughter Lynn (Bob) Kobby, daughter-in-law, Cora. Her grandchildren, Jessica Pryor, Michael Allen, Drew Kobby, Tara Evans, Zachary Allen and Sarah Allen. Great grandchildren, Penelope Allen and Charlie Pryor.
Memorial Service:  11:00 a.m. Saturday, January 22nd at First Baptist Church in Smithville.  
Donations to the First Baptist Church may be made in lieu of flowers.
Tweet
Share
Link
Plus
Pin
---