In Remembrance of Donald W. Eaton, Jr.

Donald W. Eaton, Jr.
Date of Death: 04-11-2018
Burial: Dearborn Cemetery
Funeral Service : 04-20-2018
---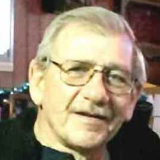 Donald Wayne Eaton, Jr., 61, of Dearborn, MO passed away April 11, 2018 after a 7 month battle with cancer.
He was born on March 6, 1957 to Donald Wayne and Wanda Lou (Pyle) Eaton in Malden, MO.  Don grew up in Platte City, MO and graduated from Platte County High School in 1975.  
On October 25, 1980 he was united in marriage to Wanda Faye Boydston.  After their marriage they lived in the rural Dearborn area where they made their home. 
Don worked as a maintenance mechanic for Johnson Controls in St. Joseph, MO for nearly 37 years.  His passions in life were deer hunting, playing pool and hanging out with friends.
He was preceded in death by his father Donald W. Eaton, Sr. and brother David L. Eaton.
Don is survived by his wife Wanda Eaton of the home; sister LouAnn Corley; his mother Wanda L. Eaton; niece Sabrina Corley; nephews Jeremy Eaton and Nick Eaton; great-nephews Kyle and Braeden Eaton; other relatives and numerous friends.  
Private family graveside will be held at Dearborn Cemetery 
Celebration of Life Visitations are scheduled for Friday April 20th from 6:00-8:30 p.m. at the Dearborn Community Center, Dearborn, MO and Saturday, April 21 from 4:00-8:00 p.m. at Jackson's Tavern in St. Joseph, MO 
Donations may be made to the American Cancer Society or St. Jude Children's Research Hospital.
Arrangements by Hixson-Klein Funeral Home, Gower
Tweet
Share
Link
Plus
Pin
---