In Remembrance of Don Park

Don Park
Date of Death: 04-09-2021
Burial: Second Creek Cemetery
Funeral Service : 04-14-2021
---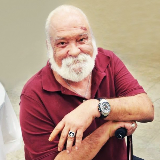 Donald Stephen Park, 71, of Dearborn, MO passed away April 9, 2021 peacefully at his home surrounded by his family.
He was born on December 28, 1949 to James Albert and Anabel (Kurkendall) Park in Kansas City, MO. Don grew up in Linkville, MO and in 1968 he graduated from Platte City High School. He was active in many sports in high school but his passion was football. He was a star defensive end for the Platte City Pirates football team and won defensive player of the year in 1967. He made many special memories with his dad and brother Bill during that time and shared them fondly even through his final days. 
After graduation Don married his high school sweetheart Alma Jean Kephart (Riddle) and although that marriage ultimately didn't work out, they remained life-long friends. He worked at the railroad for several years and later became a truck driver. He worked long term jobs in many states ultimately retiring from Glazer's in Kansas City, MO. Don loved Indian-American décor, enjoyed many types of music, collected DVDs and loved to watch movies and remained an avid sports fan throughout his life. His ultimate love later in life was spending time with his family, kids and grandchildren. 
He was preceded in death by his parents Jim and Anabel Park; and niece Teri Dovel.
Don is survived by his children Amie (Curt) Houchen, Peculiar, MO, Christa Park, Kansas City, MO, and Chance (Amanda) Park, Albany, MO; grandchildren Mikalah (fiancé Austin Ridling) Burton, Tyler (Emily) Burton, Brittany Houchen, Brett (Paige) Houchen, Cameron Wineinger, Collin Wineinger, Jack Park, Lilly Park, Melania White, Trent Konopasek, Bryce Konepasek and Cruz Stephen Park; great-grandchildren Emerson Houchen, JoLeigh Heuser, Jayce Peery and Haylen Burton; brothers Larry (Mary) Park, Bill (Brenda) Park; sister Vicky (Frank) Dovel; several nieces, nephews, other relatives and many friends. 
Memorial Visitation: 10:00-11:00 am with Memorial Service at 11:00 am Wednesday April 14th at Hixson-Klein Funeral Home, Edgerton
Burial: Second Creek Cemetery, Kansas City, MO

In lieu of flowers, donations may be made to First Call for  substance abuse prevention and recovery  https://www.firstcallkc.org/

Tweet
Share
Link
Plus
Pin
---