In Remembrance of Derrick "Derk" Henderson

Derrick "Derk" Henderson
Date of Death: 07-19-2017
Funeral Service : 09-09-2017
---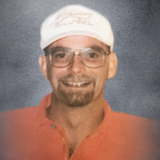 Derrick Glen Henderson, 55, of Smithville, MO passed away July 19, 2017.
He was born on March 8, 1962 to Gene Lee and Joan Lucille (Denby) Henderson in Kansas City, MO. Derk grew up in Smithville and graduated from Smithville High School in 1980. He lived most of his adult life in Smithville.
Derk was blessed with a mechanical mind that gave him a unique understanding of "how things work." He was employed in the building, construction and remodeling industry for many years. He was an avid football and baseball fan. He loved classic cars, building car engines, and crossword puzzles. Derk was an uncomplicated man who lived an uncomplicated life. He possessed a generous, kind and gentle spirit. Most of all Derk loved his family and valued his friendships. He was a "good guy."
Derk was preceded in death by his parents. He is survived by his sister, Barbara Henderson; brothers, Mitch Henderson and wife, Anita, Bill Warring and wife, Kathy, Bob Warring and wife, Tammy, and Steve Warring and wife, Nancy; step-father, Christian Martin "Red" Warring; nieces and nephews, other relatives and many friends.
The family will receive friends from 4:00-6:00 p.m. Saturday, September 9th at Hixson-Klein Funeral Home, Smithville.

In lieu of flowers, family suggests donations to the First Baptist Church in Smithville.
Tweet
Share
Link
Plus
Pin
---