In Remembrance of David Meyers

David Meyers
Date of Death: 10-23-2020
Funeral Service : 10-31-2020
---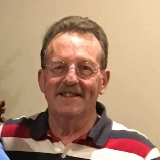 David Joseph "Skitch" Meyers, 70, of Smithville, MO passed away October 23, 2020.
He was born on April 28, 1950 to John Louis and Dorothy Marie (Walden) Meyers in South Bend, IN. Skitch grew up in Carrroll, IA and attended Kuemper Catholic High School. Skitch wanted to raise his family in the mid-west, moving his family to Smithville in 1996.
He was a member of the Good Shepherd Catholic Church in Smithville. Skitch worked as an automatic door installer for several years. He loved music, good food, all sweet treats, golfing and was an avid Iowa Hawkeyes Fan. Most of all Skitch loved making people laugh, telling "corny dad jokes" and being a dad to his three daughters. 
Skitch was preceded in death by his parents John and Dorothy Meyers; brother Michael Meyers and sister Annie Meyers.
He is survived by his daughters Lindsay (Colton) Edwards, Traci (Craig) Sitzman and Kristen (La'Bradford) Harold; grandchildren Charlotte, Lucy, Ruby, Roper, Harrison and Tyleigh; brothers Mark Meyers and Stephen Meyers; sisters Peggy Smith, Kathy Kelly, Jeanne Meyers, and Patricia Mead; numerous nieces and nephews, other relatives and many friends. 
 Mass of Christian Burial: 9:00 a.m. Saturday October 31st at Good Shepherd Catholic Church with visitation following the service at Hixson-Klein Funeral Home in Smithville from 10:00-11:30 a.m. Saturday, October 31st.
Arrangements by Hixson-Klein Funeral Home, Smithville

Tweet
Share
Link
Plus
Pin
---