In Remembrance of David L. Cox

David L. Cox
Date of Death: 08-20-2022
Funeral Service : 08-31-2022
---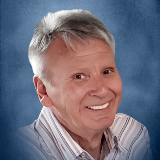 David L. Cox, 76, of Kansas City, MO passed away on Saturday, August 20, 2022 surrounded by his loved ones at St. Luke's hospital in KCMO.
David was born on May 14, 1946 in Milan, MO. Kindhearted and interested in those around him, he remained active in Westport High School alumni activities and enjoyed the comradery of friends over breakfast each morning.
Dave was preceded in death by his parents, Alvin and Hazel Cox. Survivors include his two sons: Aaron Cox (Angie) of Smithville and Lance Cox of Kansas City. Grandchildren: Lauren and Dante Cox. Siblings: Richard Cox (Marsha), Douglas Cox (Pat), Dianna Knight (Jack) and many nieces and nephews.
To know David, was to love him and he will live in the hearts of all those he encountered. 
Memorial Visitation will be held on Wednesday, August 31 from 4-7pm with Service at 5:30 at Hixson-Klein Funeral Home, 104 Church Street Smithville, MO 64089

Tweet
Share
Link
Plus
Pin
---