In Remembrance of David Burns

David Burns
Date of Death: 05-20-2022
Funeral Service : 05-25-2022
---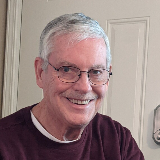 David Calvert Burns, 74 of Edgerton, MO, formerly of Kansas City, MO went to be with the Lord on May 20, 2022.
He was born on February 26, 1948, in St. Joseph, MO to Robert Harlow and Mildred (Sodeman) Burns. David grew up in rural Edgerton and later graduated from North Kansas City High School in 1965.  He served his country in the United States Air Force during the Vietnam era. After his honorable discharge, he attended the University of Missouri Rolla.
On August 14, 1971, he was united in marriage to Suann Light. After their marriage they lived in Kansas City, MO where they raised their children. In 2009 they moved to Edgerton, MO.
David retired from the Kansas City, MO Police Department in 1996. He then returned as a civilian employee of the Kansas City, MO Police Department in the call takers unit for 10 years. 
He was an active member of the Mt. Zion Baptist Church in Edgerton, MO, where he served as the maintenance custodian and lead the safety team. He was also a member of American Legion Post 445 in Edgerton, MO and helped start the tractor division. David enjoyed woodworking, gardening, RV camping and working on his tractor. Most of all he loved being a Grandpa "Gimpy" and spending time with his friends and family.
David was preceded in death by his parents Robert and Mildred Burns; his brother Bill Burns; and his son David Aaron Burns; his mother and father-in-law Ruby and Laudell Light; his brother-in-law L.J. Light; and sister-in-law Karol Burns.
He is survived by his wife Suann Burns, of the home; children Sean Burns of Ft. Collins, CO and Melanie McGinnis and husband Rick of Kansas City, MO; grandchildren Seamus and Bodhi Burns and Reilly McGinnis; brother Dan Burns; sister Mary Jo Burns; sister-in-law Ruby Burns; several nieces, nephews, other relatives and many friends. Visitation: 6:00-8:00 p.m. Tuesday May 24th at Mt. Zion Baptist Church, Edgerton, MO.
Funeral Service: 10:00 a.m. Wednesday, May 25th at Mt. Zion Baptist Church, Edgerton, MO
Burial: Terrace Park Cemetery, Kanas City, MO
Donations may be made to Mt. Zion Baptist Church.

Tweet
Share
Link
Plus
Pin
---