In Remembrance of Craig Wittwer

Craig Wittwer
Date of Death: 07-22-2019
Funeral Service : 08-10-2019
---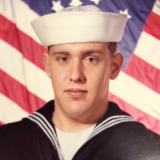 Craig Allen Wittwer, 56, of Edgerton, MO passed away, July 22, 2019.
He was born in Jackson County, MO on December 26, 1962, and was adopted by Chester A. Wittwer and Dixie L. Wittwer when he was two months old. He was raised in Kansas City and attended Oak Park High School, graduating in 1981. While attending high school, Craig worked after school at a parking garage managed by his father to earn money to purchase his first car which was a Z-24 limited edition Camaro. That car was very special to Craig. In 1982 Craig enlisted in the United States Navy. His first 3-year assignment was in Adak, Alaska protecting our border from Russia. He was then transferred to San Diego, CA, and served as an auxiliary engineer on an LHA Marine deployment ship, moving material from San Diego, along the coast of California and Washington. He was honorably discharged and came home to Kansas City in October 1988. Craig then lived with his father and attended Metropolitan Community College-Maple Woods-and obtained an Associate's Degree in Applied Sciences, stationary engineering in 1992. Craig became employed by the Trigen Energy Corporation as a steam boiler operator. The Trigen Corporation was later purchased by Veiola Energy Corporation where Craig continued to work until September 10, 2018. Craig decided at that time to pursue a different career path and attended the CDL truck driving program at Metropolitan Community College and obtained a CDL for tractor-trailer operation. Craig began a training program with Butler Transportation out of Kansas City, Kansas, and while driving in training for another driver, Craig delivered his first load in Salt Lake City, Utah, on July 22, 2019. While traveling from Utah toward Minnesota, Craig suddenly became ill. His training driver called the paramedics, but they were unable to save Craig. Craig was very proud of his accomplishment, delivering his first load, and was looking forward to driving a big rig over-the-road. Craig had a big heart and was easy to love. He will be missed by all who knew him. 
 Craig is survived by his father and step-mother, Chester and Noreen Wittwer of Kansas City, MO; two step-brothers, David Fonkert of Oskaloosa, IA and Michael (Maggie) Fonkert, Basehor, KS; step-nephew, Kellan Fonkert, Oskaloosa, IA; uncle and aunt, Fred and Shirley (Wittwer) Brammer of Dawson, NE; and many cousins and their families.
Craig was preceded in death by his mother, Dixie (South) Wittwer; grandparents, Chester and Eva Ada Wittwer; and Mr. and Mrs Leon South.
Celebration of Life: 11:00 a.m. Saturday, August 10th at Smithville American Legion Post 58 in Smithville, MO. A light lunch will be served after the service.
Inurnment:  1:30 p.m. Friday, August 16th at Leavenworth National Cemetery.
Donations may be made to Wounded Warriors.
Arrangements, Hixson-Klein Funeral Home, Smithville.

Tweet
Share
Link
Plus
Pin
---