In Remembrance of Craig Southards

Craig Southards
Date of Death: 12-31-2021
Funeral Service : 01-08-2022
---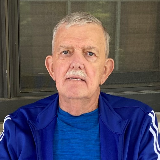 Harley Craig Southards, 70, of Trimble, MO passed away December 31, 2021.
He was born on September 22, 1951 to Robert and Opal (Ludwig) Southards in Ozark, MO. Craig grew up in Bradleyville, MO and in 1969 he graduated from Bradleyville High School. During high school he was a member of the 1967-1968 basketball team that won the class S State Championship and were inducted into the Missouri Sports Hall of Fame.
Craig retired from Superior Boeing after several years. He loved working in his yard and was very proud to of been a volunteer firefighter for the City of Kearney for several years. 
He was united in marriage to Debbie Fowler in 2005. After their marriage they made their home in Trimble, MO. 
Craig was preceded in death by his mother Opal Southards.
He is survived by his wife Debbie Southards and her children Stacie (Dave) Callahan and Chris (Brenda) Fowler and their chidlern Bailey Fowler, Chase Murdock, Adi Callahan and Callen Callahan; his father Robert Southards; his son Brian (Marrisa) Southards; his daughter Joy Southards-Gable; his grandchildren Amelia and Haley Southards and Ava Gable; his brother Randy Southards; his sister Becky (Wesley) Kuhns; several nieces and nephews, other relatives and many friends.
Celebration of Life will be held from 11:00 a.m.-2:00 p.m. Saturday, January 8th at ReeceNichols Community Room in Kearney, MO.
In lieu of flowers, donations may be made to the Alzheimer's Association.
Arrangements by Hixson-Klein Funeral Home, Smithville
Tweet
Share
Link
Plus
Pin
---