In Remembrance of Correna Sue Masters

Correna Sue Masters
Date of Death: 12-22-2018
Funeral Service : 12-28-2018
---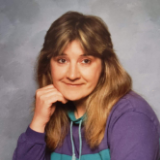 Correna Sue Masters, 57, of Kearney, MO passed away, Saturday, December 22, 2018.
She was born on September 11, 1961 in Kansas City, MO. 
Rena had a love for elephants and so loved her grandbabies and was proud of them.
Rena was preceded in death by her parents, Charles Masters and Wanda "Sue" Holland and many other loved ones.
She is survived by her children, Carla Pollard, Samantha Hager, and Dennis Hager; her grandbabies, Mercedes, Tyler, Austin, Shyann, Carlie, Alicia, Drizten, Addison, and Aven; one great-grandbaby expected in May; sisters, Cherie Masters, Tina and Brent Herdman, Michelle and Daryl Stone; brother, Charley Masters; and many other loved ones. 
Memorial Service: 6:30 p.m. Friday, December 28th at Hixson-Klein Funeral Home, Gower with visitation to follow.

Tweet
Share
Link
Plus
Pin
---