In Remembrance of Clayton Cashatt

Clayton Cashatt
Date of Death: 11-21-2021
Burial: Rosehill Cemetery
Funeral Service : 11-29-2021
---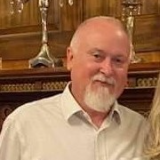 Clayton Wayne Cashatt, 63, of Gower, MO passed away November 21, 2021.
He was born on July 1, 1958, to Louie William and Mary Loraine (Mulford) Cashatt in Chillicothe, MO. Clayton grew up in Breckenridge, MO and in 1976, he graduated from Breckenridge High School. 
On July 9, 1977, he was united in marriage to Linda Gail Wright. In 1984 they moved to Gower, MO where they raised their family and made their home. 
Clayton worked for several body shops in the area and in 1988 he and Linda, opened Clayton's Carriage Works in Gower. He was known for being a perfectionist and his high quality of work. Clayton enjoyed gardening, working in the yard and being a part of local car shows and he loved to play the guitar and sing songs. He and Linda also enjoyed going to the movie theater.
He was an active member of Frazier Baptist Church. 
Clayton was preceded in death by his parents Louie and Loraine Cashatt; his brothers Charles and Bobby; and his sister Helen. 
He is survived by his wife Linda Cashatt; children Clifton (Faith) Cashatt, Colton (Tarin) Cashatt, Clinton (Stephanie) Cashatt and Kylie (Scott) Anderson; grandchildren Brooklyn, Cassie, Ashton, Elaina, Caysen, Caylee, Dani, Stephen, Catalina, Cutter, Cambria, Ryatt, Kylan, and Stella; brothers David (Mary Beth) Hageman, Joseph Riddle, Randy (Darcy) Cashatt, and Louie Cashatt; sisters Connie (Billy) Harris and Marilyn (Kevin) Zwygart; several nieces, nephews, other relatives and many friends.Visitation: 5:00-7:30 p.m. Sunday, November 28th at Frazier Baptist Church, Agency, MO
Funeral Service: 1:00 p.m. Monday November 29th at Frazier Baptist Church, Agency, MO
Burial: Rose Hill Cemetery, Breckenridge, MO
Donations may be made to Frazier Baptist Church.
Arrangements by Hixson-Klein Funeral Home, Gower.

Tweet
Share
Link
Plus
Pin
---