In Remembrance of Chris R. Carter

Chris R. Carter
Date of Death: 12-19-2018
Funeral Service : 12-30-2018
---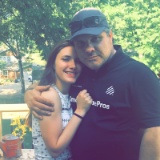 Christopher Robert Carter, 43, of Gladstone, MO passed away December 19, 2018.
He was born on July 17, 1975 to John Bill and Linda Lorene (Walker) Carter in St. Joseph, MO. Chris grew up in Lathrop and graduated from Lathrop High School. 
Chris worked as a stereo installer for several years and later as a security system installer. He enjoyed fishing, listening to music, riding 4-wheelers and spending time with his family and friends. Chris dedicated his life to his daughter Natalie.
He was preceded in death by his dad John Carter.
Chris is survived by his daughter Natalie Carter; step-daughters Dani Plowman and Dallas Plowman; mother Linda (Steve) Darr; brothers Brian (Lindsey) Carter, Blake Carter and Derek Carter; nieces and nephews Trent Carter, Alexis Carter, Savannah Carter, Rylan Carter, Davyn Carter, Mason Carter, and Dyllan McGinnes; other relatives and many friends. 
Memorial Service: 4:30 p.m. Sunday, December 30th with visitation following until 6:00 p.m. the service at Community of Christ Church, Smithville, MO
In lieu of flowers, donations may be made to the Chris R. Carter Memorial Fund c/o Security Bank, Smithville

Tweet
Share
Link
Plus
Pin
---