In Remembrance of Cheryl K. Barr

Cheryl K. Barr
Date of Death: 02-17-2021
---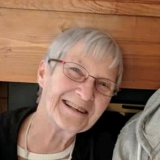 Cheryl K. Barr, 76, of Gladstone, MO passed away, February 17, 2021.
She was born May 9, 1944 to L.L. "Corn Crop" and Helen Ruth (Cox) Knipp. Cheryl grew up in Tipton, MO and graduated from Tipton High School. Cheryl also graduated from Sisters of Charity School of Nursing.
On June 11, 1966 she was united in marriage to Charles Edward Barr, Jr. After their marriage they lived in Kansas City where they made their home. Cheryl spent her career as a Registered Nurse for North Kansas City Hospital for 30 years.
She was a devout member of St. Andrew's Catholic Church in Kansas City for over 40 years. 
 Cheryl was an avid reader and enjoyed gardening in her later years. She mastered the art of the handcrafted letter.
She was preceded in death by her parents.
Cheryl is survived by her husband, Charles "Bud" Barr; children, Michael (Megan) Barr and Karen Joslin; grandchildren, Sophie, Eli, Delaney, Allen and Jordan; sisters-in-law, Kathy Barr, Eileen (David) VanTasell, and Mary Ann (Rick) Talley; several nieces and nephews, other relatives and many friends.
The family will have a Celebration of Life at a later date.
In lieu of flowers, donations may be made to Alzheimer's Association or St. Andrew's Catholic Church.
Arrangements, Hixson-Klein Funeral Home, Smithville. 

Tweet
Share
Link
Plus
Pin
---