In Remembrance of Charlotte King

Charlotte King
Date of Death: 10-01-2020
Burial: Ridgely Cemetery
Funeral Service : 10-05-2020
---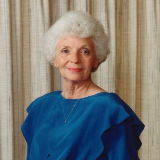 Charlotte King, 87, of Edgerton, MO passed away Thursday, October 1, 2020.
Charlotte was born on August 2, 1933 to Carrel Winifred and Martha Ellen (Thompson) Harmer in Edgerton, MO. As a child she grew up in Edgerton. She graduated from Edgerton High School. While there she enjoyed playing basketball team and life on the farm.
On October 8, 1951 she was united in marriage to George Matthew King. They lived in Dearborn where they made their home and raised their children. Her husband, Matthew, preceded her in death on February 17, 1978.
Charlotte was a member of Community of Christ Church in Trimble, MO. She took some college courses at Missouri Western later in life and retired from Maxon, Inc. She was an avid reader, enjoyed traveling and most of all relished time spent with family and friends. 
She was preceded in death by the following: her parents; sons: Charles Michael and Mike Williamson; daughter Cynthia Renee; great grandsons: Cole Farris and Tyler Williamson; brothers: Billy and Boley Harmer; and sisters Ruth Ann Fuller and Joyce Kissick.
Charlotte is survived by her children: Valerie (Bob) Kyle; Kim (Gene) Peters; Melanie (Don) Robinson; James (Cherry) King; Stephanie Cunningham; and William King; 43 grandchildren and growing; brother Robert Harmer; sisters Mary (George) Gieringer and Lenora Molder and sister-in-law Maxine Harmer; many nieces, nephews and other relatives and friends.

Funeral Service:  11:00 a.m. Monday, October 5th at Hixson-Klein Funeral Home, Edgerton.
Visitation:  12:30-2:30 p.m. Sunday at the funeral home.
Burial:  Ridgely Cemetery.
Tweet
Share
Link
Plus
Pin
---