In Remembrance of Charles Rawlings

Charles Rawlings
Date of Death: 09-08-2022
Burial: Pleasant Ridge Cemetery
Funeral Service : 09-13-2022
---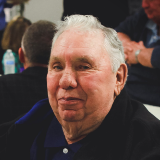 Charles Rawlings, 80, of Platte City, MO passed away, September 8, 2022.
He was born on November 8, 1941 to Earl Charles and Nellie Wray (Buckler) Rawlings in Weston, MO. He attended North Platte High School.
On September 28, 1963 he was united in marriage to Judith Lynn Hansroth. After their marriage they lived in Platte City where they made their home. His wife, Judy, passed away, May 5, 2021.
Charles worked for Hotpoint Appliances and Leonard Brothers Truck line. In addition to working, he was a lifelong farmer. In his earlier years he enjoyed racoon hunting and later gardening. But most of all loved his time with his granddaughters.
He was also preceded in death by his parents and brothers, Jerry, Gary, Roger, and Steven Rawlings; and sister-in-law, Connie Rawlings.
Charles is survived by his sons, Kelly (Michelle) Rawlings and Kevin (Tamara) Rawlings; granddaughters, Madelyn and Rachel Rawlings; sisters, Joyce Snyder and Virginia (Steve) Woodward; brothers, Alton Rawlings and Rick (Susan) Rawlings; sister-in-law, Joyce Rawlings; his dog, Bella; several nieces and nephews, other relatives and many friends.
Graveside Service: 11:00 a.m. Tuesday, September 13th at Pleasant Ridge Cemetery, Weston, MO. The family will receive friends at 10:30 a.m. prior to the service.
Arrangements, Hixson-Klein Funeral Home.
Donations may be made to St. Jude's Children's Hospital.

Tweet
Share
Link
Plus
Pin
---