In Remembrance of Carroll Cox

Carroll Cox
Date of Death: 04-27-2023
Funeral Service : 04-27-2023
---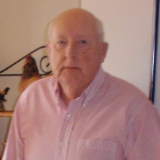 Lindell Carroll Cox, 84, of Trimble, MO formerly of Edgerton, MO passed away April 27, 2023.
He was born on August 31, 1938, to Robert D. and Elma (Dodson) Cox in Carthage, MO. On February 16, 1963, he was united in marriage to Betty Irene Hodge. After their marriage they lived in Edgerton where they made their home. After their retirement they moved to Salida, Colorado and in 2015 they moved back to Trimble. 
Carroll retired from TWA. He was a member of the Edgerton Methodist Church. Carroll was active in Boys Scouts and belonged to several antique tractor pulling clubs. He enjoyed collecting antiques and working on anything with wheels. 
He was preceded in death by his parents and sister Linda Sharon Kuhl.
Carroll is survived by his wife Betty Cox; sons Robert Cox and Tom Cox and wife Amy; grandchildren Mackenzie, Haylee, and Dylan; other relatives and many friends. 
A celebration of life service will held at a later date.

Tweet
Share
Link
Plus
Pin
---