In Remembrance of Bubby Hensley

Bubby Hensley
Date of Death: 10-15-2021
Burial: Camden Point Cemetery
Funeral Service : 10-19-2021
---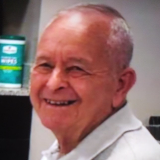 Milton E. Hensley, 76, of Platte City, MO passed away, October 15, 2021.
He was born on April 15, 1945 to Milton M. and Ruth (Stewart) Hensley on St. Joseph, MO. Bubby graduated from North Platte High School. He then served his country in the U.S. Army during the Vietnam War.
On February 21, 1969 he was united in marriage to MaryDean Perkins. After their marriage they Platte County. 
Bubby worked for the MO State Highway Department for 30 years. After his retirement, he worked for the City of Platte City for 13 years. He was an avid mechanic and accomplished carpenter. 
He was preceded in death by his parents and his daughter, Tammy Jordon.
Bubby is survived by his wife, MaryDean; daughters, Sheila (Stan) Palmer and Cindy (Wes) Stubbs; grandchildren, Cody (Jenn) Hill, Jason (Missy) Hill, Ryan Jordan, Jaclyn Stubbs, Nick (Abby) Palmer, Jessica Stubbs, Maggie Palmer, Jake Stubbs, Jace Stubbs, and Lindsey Byrd; fourteen great-grandchildren; sisters, Barbara Williams and Vickie Dennis; several nieces and nephews, other relatives and many friends.
Graveside Service: 1:00 p.m. Tuesday, October 19th at Camden Point Cemetery.
Arrangements, Hixson-Klein Funeral Home.

Tweet
Share
Link
Plus
Pin
---