In Remembrance of Bonnie Kellam

Bonnie Kellam
Date of Death: 04-30-2019
Burial: Greenlawn Cemetery
Funeral Service : 05-04-2019
---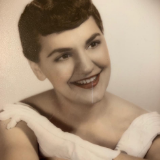 Bonnie Kellam, 80, of Plattsburg, MO passed away peacefully in her sleep at home on April 30, 2019.
Bonnie Lou Guenthner was born in Antigo, Wisconsin on June 3, 1938 to dairy and potato farmers George and Bernadyne Guenthner. She was the third daughter and the youngest of five children.
She graduated from Antigo High School in 1956 and went on to business school in Wausau, following which she procured a position with Employee Mutual Insurance. Seeking adventure, she convinced her folks to move her to Kansas City where she enrolled in the Weber Airline School. She was recruited by Braniff Airlines where she served as a stewardess for three years.
While on vacation in Hawaii, she met a naval navigator from Missouri stationed there. After a whirlwind romance, Bonnie and Charles Kellam were married in Antigo on June 4, 1960. They moved to Missouri and settled in the Plattsburg-Trimble area where she assumed the role of a farmer's wife. She also worked as an LPN at Smithville Community Hospital for three years. After her children were born, she worked as a secretary for the Massey Ferguson dealership of H.H. Halferty and Sons in Paradise, Missouri. Shortly after her boys started school, Bonnie filled the secretary vacancy at Ellis Elementary grade school in Plattsburg where she remained for many years.
She loved being a homemaker and, like her mother, enjoyed cooking. So much so that she taught many levels of cooking classes for the local 4-H club. Bonnie took great pleasure in preparing family and friend's favorite dishes. She reveled in decorating her home for each season and holiday. Bonnie loved fast cars and owned several. As a young bride, she competitively raced go-carts at national events. In retirement, she bought Charlie a 1966 Cobra and they made the car show circuit.
Bonnie is survived by her husband Charles Kellam; her two sons: Jerry (Rhonda) Kellam and David (Christy) Kellam; 4 grandchildren: Brandi (Kenzie) Kellam-McClain, Jami (Brandon) Kellam-Doldt, Lauren Kellam and Garrett Kellam, of which she had made a goal to see them all graduated from college. A goal she accomplished in the spring of 2018; and 7 granddogs that she loved.
Visitation: 5:00-8:00 p.m. Friday, May 3rd Hixson-Klein Funeral Home, Smithville 
Funeral Services: 11:00 a.m. Saturday, May 4th at the funeral home. 
 Burial: Greenlawn Cemetery, Plattsburg
Please direct memorials to the United Methodist Church of Paradise

Tweet
Share
Link
Plus
Pin
---