In Remembrance of Bobby Brown

Bobby Brown
Date of Death: 01-18-2021
---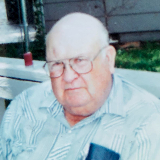 Bobby Brown, 88, of Kansas City, MO passed away, January 18, 2021.
He was born on April 17, 1932 to Elmer Mode and Mattie (Doss) Brown in Mt. Vernon, MO. Bobby grew up in Miller, MO on the family farm. He then served his country in the U.S. Navy during the Korean War.
On October 1, 1960 he was united in marriage to Lois L. Reeves. After their marriage they farmed in Turney, MO and later moved to Kansas City, MO. His wife, Lois, passed away in 2017.
Bobby retired from Ford Motor Company after 25 years. He enjoyed hunting and fishing.
He was preceded in death by his parents and nine brothers and sisters.
Bobby is survived by his children, Tom, Dianna, Carl, Debbie; eight grandchildren; numerous great-grandchildren; brothers, Troy, Harold and Carl; sister, Lucille; and his dog Scout; other relatives and many friends.
Graveside Services will be held at a later date.
Arrangements, Hixson-Klein Funeral Home.
Tweet
Share
Link
Plus
Pin
---