In Remembrance of Billy "Red" Shanks

Billy "Red" Shanks
Date of Death: 09-04-2017
Funeral Service : 09-08-2017
---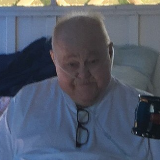 Billy Richard "Red" Shanks, 77, of Pearland, TX, formerly of Dearborn, MO passed away, September 4, 2017.
He was born on July 29, 1940 to Howe and Lydia (Hensley) Shanks in Dearborn, MO. Red grew up in Dearborn and graduated from North Platte High School in 1958. He owned and operated the gas station in Dearborn for several years.
Red was baptized at the Dearborn Baptist Church.


On September 17, 1981, he was united in marriage to Carol Ann Leonard. After their marriage they lived in Pearland, TX where they made their home.
Red was a mechanic and owned and operated Red's Auto Parts in Houston, TX.
He enjoyed racing, demolition derbies, and restoring his 1969 Dodge Super B. Red loved to spend time with his grandchildren, coach softball and basketball and attend high school football games.
Red was preceded in death by his parents, brothers, Junior "Junebug" Shanks and J.W. Shanks; sisters, Mary Ellen Masoner, Lena May McCone, Lettie McCoy and father-in-law Harold Sanders.
He is survived by his wife, Carol, of the home; children, Shari Shanks Jones and Matt and Eric Shanks, Matthew Ryan Shanks, and Mackenzie Shanks; grandchildren, Derrick Shanks, Madison Jones, Zachary Jones, Paige Shanks, Daisy Shanks, Jaycee Bang, Blake Heider and Maggie Shanks; great-granddaughter, Callie Shanks; brothers, Milton"Micky" Shanks and Howard Masoner Shanks; sisters, Edna Salkowski, Janet Lee Perkins and Marjorie Mundt; mother-in-law, Algere Sanders; several nieces and nephews, other relatives and many friends.

The family will receive friends from 10:00 a.m. – 4 p.m. Friday, September 8th at the Dearborn Community Center.
Arrangements, Hixson-Klein Funeral Home, Gower.





Tweet
Share
Link
Plus
Pin
---