In Remembrance of Bill Matthews

Bill Matthews
Date of Death: 11-06-2022
Funeral Service : 11-06-2022
---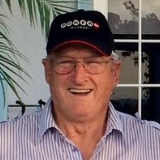 William G. Matthews (Bill) passed away November 6, 2022, at the Gower Convalescent Center in Gower, MO.
Bill was born on March 8, 1937, to Laburn and Lorene Matthews and spent much of his childhood fishing, hunting, and playing in the rivers and forests of Northwest Arkansas. When Bill turned 17, he joined the U.S. Army after convincing his dad to sign for him. After completing training in South Carolina and Alabama, Bill took a troop transport to England and then to Germany where he served his entire enlistment. Upon discharge in 1957 he returned to Arkansas where he became a concrete mason working with his father. In 1959 he followed family members to Northwest, Missouri where he would remain for the rest of his life.
He married Linda M. McClain on September 5, 1960, and they went on to build a family and many homes around Edgerton and Dearborn. He was a wonderful family man and he had many friends. He also loved being a concrete finisher and did hundreds of concrete jobs around Platte County and neighboring counties. One of the highlights of his occupation was teaching his nephew Brian how to become a concrete finisher. They worked together for many years and thoroughly enjoyed their time out on construction sites laughing and joking.
In his later years he enjoyed driving the school bus for the North Platte School District where he made many good friends. He was also a beloved sibling and uncle. He had many nieces and nephews and he loved seeing them at family reunions and get togethers. 
Bill is preceded in death by his parents and three sisters, Carolyn, Nadine, and Patricia Pearl as well as his son-in-law Mark Hill.
He is survived by his wife Linda, St. Joseph, MO, daughter Cindy Matthews Hill, Camden Point, MO. Son Chris Matthews and wife Kristin, Charleston, SC. Grandchildren Jarod Pharis and wife Natalie, Liberty, MO. Brooke Matthews, Washington D.C. Zach Matthews, Charleston, SC, Jaiden, Noah, and Parker Hill, Camden Point, MO. Great grandson Liam, Liberty, MO. Along with his beloved brothers, sisters, nieces, nephews and sister-in-law.
Family graveside services will be held at Dearborn Cemetery.
Arrangements by Hixson-Klein Funeral Home, Gower

Tweet
Share
Link
Plus
Pin
---