In Remembrance of Beth Urton

Beth Urton
Date of Death: 03-29-2018
Funeral Service : 04-07-2018
---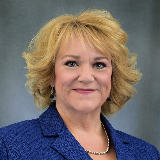 Beth Janeen Urton,50, of Smithville, MO passed away March 29, 2018.
She was born on August 27, 1967 in Cameron, Missouri. Beth grew up in North Kansas City and attended North Kansas City High School.
On July 15, 1995 she was united in marriage to Thomas R. Urton and quickly became a beloved member of her new extended family. After their marriage they lived in Grandview, MO until 2002, when they moved to Smithville, MO. They had three incredible children; Matt, Mindy and Mikey. It was in Smithville that they found their church family and many wonderful friends. The Urton family are members of the Grace Community Church in Smithville. Tom passed away on November 14, 2007 after a courageous battle with brain cancer.
She was an officer at Commerce Bank in Kansas City, MO. Beth loved the color pink and had a passion for bringing beauty to everything around her. She had a love for heavy metal hair bands, finding the best bargain shopping, Cadbury eggs and most of all bringing the family together. She was an amazing mother, daughter, sister, aunt and friend.
Our hearts are comforted knowing she is reunited with Tom, the love of her life.
Her memory will be cherished by those she left behind; her devoted children Matthew, Melinda and Michael Urton all of the home; mother Linda Simons; father Keith Swindler and wife Kathy; sister Heather Braswell; brother Brian Swindler; sister and brother in law, Carol and Carl Huff and Denise & Pete Blackburn; a host of nieces and nephews; as well as many other relatives and friends.
Memorial Service: 11:00 a.m. Saturday, April 7th at Hixson-Klein Funeral Home, Smithville
In lieu of flowers, the family suggests contributions to the American Foundation For Suicide Prevention
Tweet
Share
Link
Plus
Pin
---